If you've been following me for a while, you might remember Bites: a series of limited-release short, creepy stories. They've been unavailable for the last year due to licensing restrictions, but as of today I'm finally able to publish them again!
I combined the editions, revised them, and wrote an additional 20 stories for this complete collection.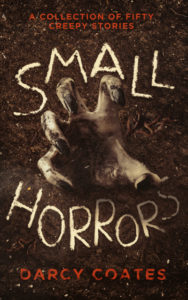 SMALL HORRORS
Something mimics human voices as it lures you into the woods.
One of the morgue's corpses is missing.
Your friend wants to meet late at night, but they aren't acting like themselves.
Immerse yourself in the macabre, the gothic, and the chilling with this collection of fifty short stories.